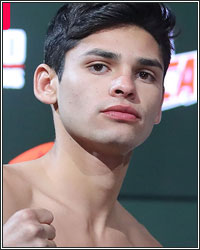 Even someone who appears to "have it all" can be struggling, feeling broken on the inside, working hard to keep it all together, utterly panicked that they aren't good enough to hold on to what they have.
Nobody outside of Ryan Garcia, himself, and a close circle of family, friends, and confidantes, knows what's what with the 22-year-old "KingRy, but SOMETHING is up.
On Saturday, the fast-rising lightweight star announced via social media that he was pulling out of his scheduled July 9 bout with Javier Fortuna.
"I know this news may be disappointing to some of my fans but I am announcing today that I am withdrawing from my July 9th fight," Garcia said via his verified Instagram account, which boasts 8.6 million followers. "At this time it is important to manage my health and wellbeing. I have decided to take some time off to focus on becoming a stronger version of myself. I hope to be back soon and am looking forward to stepping back into the ring when I am my healthiest self. I want to Thank God, my family, my doctors and my supporters."
That cryptic post follows a very personal admission from Garcia back in March.
"I still struggle everyday with anxiety and depression at times because of my anxiety," Garcia wrote. "There are times where it calms down. But I still battle every day…But I'm with all of you who struggle and I'm here to tell you it's okay…We can still do what we want and what our hearts want. God is good…I'm here to tell you it's still possible to reach your dreams. There are ways to cope, I know I look like someone who is happy all the time but inside I hurt at times struggling just to function but I choose to keep moving forward. I love you guys, keep going."
Does one thing have to do with the other? We don't know and it wouldn't be fair to speculate– although the internet has been full of speculation since this story broke.
But we do know that Garcia is dealing with something above and beyond the usual boxing issues of busted hands, pulled muscles, and cuts sustained in training. And, really, it wasn't hard to see the possibility of something like this happening. In one of my Magno's Bulging Mail Sack columns a couple of weeks back, I touched on the fact that Garcia may not be such a slam dunk, no-brainer pick for long-term stardom:
"…and we'll just have to see about Ryan Garcia's continued dedication to boxing when mainstream, out-of-boxing endeavors and distractions start tugging more at his shirt sleeves."
Well, something has been tugging and we'll eventually find out what.
I'd be remiss, however, if I didn't point out a widely circulated theory out there on social media that says this "focus on becoming a stronger version of myself" has something to do with getting out of a tough Javier Fortuna fight and obtaining an excused grace period on fighting any other of the top young lightweights.
Personally, I never thought that the Fortuna fight was going to happen. It's just a very bad stylistic matchup and it had the possibility of bringing down Garcia's entire house of cards before it's even been fully constructed.
Similarly, fights with Gervonta Davis, Devin Haney, or Teofimo Lopez would've been disastrous for him. This isn't a knock on Garcia's overall abilities or potential, just an acknowledgment that he's not as far along in his development as these other guys.
The problem is that Garcia's been calling them all out– aggressively– from his position as the fighter with the biggest platform via social media and has been promising these fights to his fans, along with a ridiculous Manny Pacquiao bout. From a public relations standpoint, there's nowhere for him to go that won't result in him either getting curb stomped by someone above his reach or mass-ridiculed by fans for promising fights that he was never going to deliver. Settling on a perceived level-below fighter like Fortuna was the compromise that had to be made, except he may not even be ready for a guy like Fortuna.
But I don't hold much credence to this particular "he's faking it to avoid the tough fights" buzz. If Garcia and/or his team wanted out, faking mental illness (or drug addiction, for that matter) would be really stupid from his position as a 22-year-old just starting to reap the benefits of "real world" recognition and endorsements. Something like this is not exactly a plus when it comes to marketing to the masses or overall salability. It would be infinitely easier to just claim injury, a soft tissue injury that would be impossible to disprove.
The kid, though, had definitely backed himself into a corner when it comes to his matchmaking and it's probably for the best that he hit "pause" and allow himself the chance to pull back a bit.
I don't think he's "faking" mental health issues (which have reportedly been confirmed by Golden Boy's Eric Gomez through Fortuna's promoter Sampson Lewkowicz). I just think that a lot has been put on the plate of a young man who just wasn't ready to deal with it all.
Let the guy take his rest, clear his head, and go with the hard reset.
Got something for Magno? Send it here: [email protected]